The "wave of milk" now coming from the U.S. is helping flood world dairy product markets, said Rabobank dairy analyst Tom Bailey (pictured above) at an outlook reception for customers in Madison on Monday night. The result, he said, will be significantly lower producer prices in 2015 – a decline that has already hit farmers in Europe and New Zealand.
"U.S. market prices for dairy products are defying gravity and cannot be sustained," he said. U.S. prices that remain well above world levels have extended the unprecedented Class III prices farmers have enjoyed in 2014. However, the bank's just-released third quarter outlook report sees a much different picture in 2015.
From an average of more than $22 per hundredweight in 2014, Bailey predicts first and second quarter 2015 averages of less than $17, then rebounding to the mid-$18 level the second half of the year. He noted that his outlook is cloudier than current futures levels at the Chicago Mercantile Exchange.
Three negative global demand factors have coincided with higher U.S. production: lower than expected demand by China; Russia's ban on imports from major Western countries; and weak economies in other importing nations that are unable to absorb the excess. As a result, he said global inventories are building and U.S. prices will inevitably fall toward international levels.
Despite the disappointing milk price outlook, Bailey expects very low feed prices to continue in 2015 – low enough to translate into break-even or slightly better production costs.
"This is a bearish, short-term outlook, but the dairy industry still looks quite exciting," he pointed out. "No one else in the world can dairy like we do, and the world market will come back. The long-term dairy outlook is pretty good, so don't sell the cows yet."
---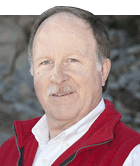 The author has served large Western dairy readers for the past 37 years and manages Hoard's WEST, a publication written specifically for Western herds. He is a graduate of Cal Poly-San Luis Obispo, majored in journalism and is known as a Western dairying specialist.