For the second year in a row and even with disappointing milk prices, dairy producers will probably be smiling as they shop for corn this fall.
If USDA's latest crop estimate for 2015 – 13.7 billion bushels – pans out, it would be the third largest in history. It is a buyer's market outlook that comes despite a second straight year of fewer total acres.
Much of the decline comes from the Southeast and four Plains States – North Dakota, South Dakota, Nebraska and Kansas. Minnesota acreage is also significantly lower.
Marginally fewer acres, however, are expected to be offset by an average yield of 168.8 bushels per acre, the second most ever.
The two biggest corn crop years in history were 2014 and 2013, which helps explain why average monthly futures prices in 2015 have fallen to their lowest levels since 2010.
December contracts at the Chicago Board of Trade have been trading at around $3.75 per bushel this week, versus $6.21 in 2013, $7.63 in 2012, and $6.88 in 2011.
Because the U.S. is the world's largest corn producer and exporter by far, a third bumper crop in a row figures to add to what are already mountains of carryover stocks.
Corn farmers scrambled to increase storage capacity to cope with the all-time record crop and falling prices last year, so it seems inevitable that this year's harvest will make the global glut problem even worse.
But it won't be the only reason. Other factors include economic weakness or outright recession in many countries, Russia's ban on food imports from the U.S. and other major suppliers, China's cooling economy, and relentless strength of the dollar against almost every other currency.
---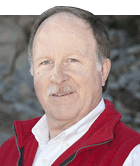 The author has served large Western dairy readers for the past 38 years and manages Hoard's WEST, a publication written specifically for Western herds. He is a graduate of Cal Poly-San Luis Obispo, majored in journalism and is known as a Western dairying specialist.