Instagram is a great platform to use to connect directly with consumers. Not only is it the second largest social network behind Facebook with 700 million users, 35 percent of Americans (114,000,000 people) spend a lot of time on it.
While Instagram is mostly a photo and video social platform, Instagram Stories gives you the ability to showcase a series of videos or photos in a story format with lots of creativity using text, drawing, gifs, and filters.
Instagram Stories works a lot like Snapchat by only allowing the stories to stay active for 24 hours and then disappear. Unlike Snapchat, it's associated with your public profile and easier to navigate to find things you are interested in. Many social celebrities have decided to leave Snapchat for Instagram.
What are some ways you could use Instagram Stories for your farm?
1. Entertain urban consumers with life on the farm.
2. Give them insights on farm practices and simple nutrition value of dairy.
3. Engage, inspire, and motivate them to come back to you for food and farm information.
Below is a quick primer on how to use Instagram Stories for your farm.
Where are Instagram Stories?
Instagram Stories are created on the top left. Instagram Stories from Instagram profiles you follow are at the top in the circles.
How do you create Instagram Stories?
There are many things you can do when you decide to create story. Take time to explore all your options, especially the face filters and video/photo options.
How do you adjust your Story Settings?
Story settings allow you to control who sees your story.
What can you do creatively to an Instagram Story?
So many options open up once you take a photo or video.
After your Instagram Story has posted, what can you do?
There are many things you can track after the story has posted as well.
Here are some examples from dairy farmers:
From crazy4moo: talking about cow health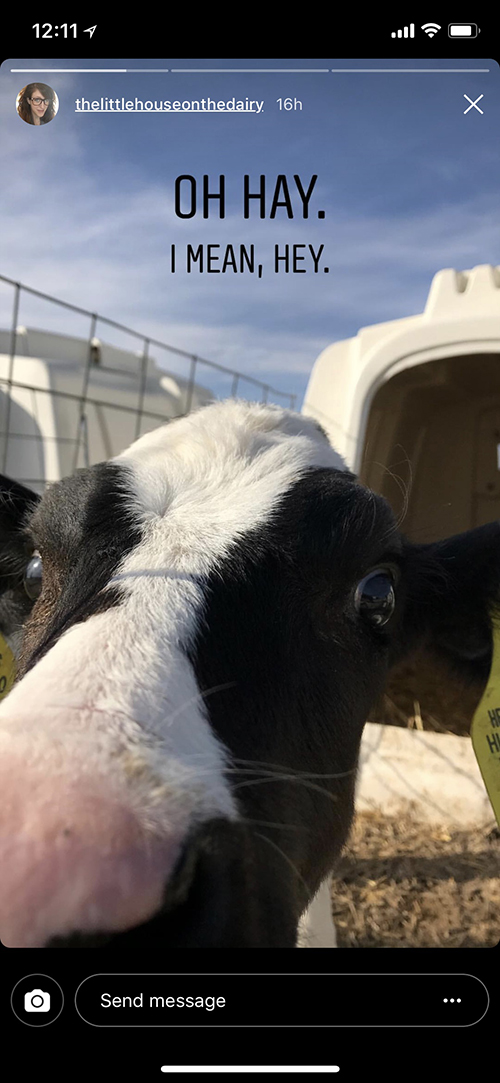 Thelittlehouseonthedairy: clever text
Reb_Hilby talking cow health and calves.
Need more help? Just reach out to me at don.schindler@dairy.org or on Instagram at @donschindler.
We would love it if you hashtag #undeniablydairy when you do your posts.
We have more training on Instagram in the Dairy Hub. To join the Dairy Hub, just go to http://dairyinfo.org
---
The author is a Senior Vice President of Digital Initiatives at Dairy Management Inc.