Dairymen and women know there's always room for improvement on the farm. That concept of constantly improving is a key at Maddox Dairy in Riverdale, Calif., where consistency is the focus. Although the farm is famous in multiple realms of the dairy community, it also maintains a strong and informative relationship among its employees.
According to herd manager Juan Garcia, "Everyone has a voice here." Garcia joined the Maddox Dairy team in 1999 and became the manager in 2005. He started part time in high school and became full time in 2001. He expressed that he wants everyone to have a positive introduction to the dairy, just as he did.
"Cows are easy. Each employee is different," said Garcia.
The farm has implemented biannual employee meetings. They are held at the beginning of the year to establish goals and again sometime during July to evaluate progress on those targets. However, the milking team also meets every two months because of the alteration in shifts. For two months, an employee will work on the day shift and then switch to the night shift for another two months. The rotation continues throughout the year.
Meetings also heavily consist of rehearsing protocols. Going over items in a language that each employee can understand gives them the confidence to perform those actions. Written protocols also provide extra encouragement to execute tasks unaltered each time.
Garcia feels that reviewing protocols is needed on each farm but doesn't want to bore employees each time with what they already know. Instead, he updates results from each sector of the farm in the office monthly. For example, there are reports posted on lameness, conception rate, calf mortality, and so forth. To make it even more interesting, results are divided up into each employee's performance. To add incentive, an employee may receive a bonus based on their performance. One such metric that sometimes earns a bonus would be if an employee's conception rate is above 40 percent.
Garcia stated, "Meetings are for information. The results give employees an idea of where they're at. Without them, they wouldn't know if they are performing well or not. I'm still growing and learning how to manage people, but establishing a good program with consistency is what we strive for."
---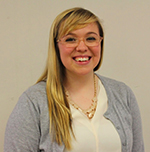 Sarah Thomas grew up in Pittsboro, N.C., showing and raising dairy heifers. Thomas attends Virginia Tech, majoring in dairy science with minors in agricultural economics, communication, and Spanish. On campus, she's involved with Dairy Club, Sigma Alpha, and has been a member of the Virginia Tech dairy judging team. Thomas is the current National Junior Holstein Advisory Committee Chairperson and is the 2019 Hoard's Dairyman summer editorial intern.