Since the time I was little, I have always enjoyed reading. Much of this fascination with stories is thanks to my grandma, an elementary school teacher for 40 years, who taught me that books were an opportunity to experience a reality other than the one I knew. As a kid, we read stories together about places across the world (or that only existed in the imagination), animals I'd only seen in pictures, or characters on unique journeys. It was a captivating and engaging way to learn about the world around me.
Of course, my family also had plenty of farm books — Click, Clack, Moo: Cows That Type was a favorite — but my brother and I could walk out our door to experience those images, so we didn't "ooh" and "ahh" over them as much as we simply enjoyed reading about something we recognized!
For more and more children today, those agricultural books are the stories that showcase something entirely new. As a farm upbringing becomes less common, these young minds might not have any perception of tractors, cows, or a field of corn. The many examples of children's books with stories of "life on the farm" contribute to forming their early perspectives on agriculture, and though these books can be useful, they also are often not the most accurate picture of what farming really looks like today.

So, we at Hoard's Dairyman were delighted to learn recently that a Minnesota dairy farmer had written and published a children's book that is a realistic take on dairy farming with the same whimsical charm that will keep young readers entertained. Louise Malecha and her husband, Todd, raised seven children on their 1,300-cow dairy that is now transitioning into the next chapter of family ownership. Malecha said she wrote Going to Papa and Nana's Farm because she wanted to tell the story of that family farm life.
"I thought, 'Why not do that through the eyes of children?'" she said. "That brings laughter, joy, and fun to readers all over the world while educating and teaching them about agriculture and where our food comes from."
The 32-page paperback book tells the story of two children visiting their grandparents' dairy farm where they learn how cows are milked and cared for, how equipment is used, and what goes on at the farm every day. Illustrations by one of Malecha's daughters, Katelynn, portray farm tools such as a parallel milking parlor, mixer wagon, calf hutches, and sprinkler irrigation.

Throughout the book, the reader will also notice tiny, augmented reality codes on select pages. Using a smartphone or tablet app, scanning the codes will bring up videos filmed at real dairy farms that make the story come alive.
The combination of the endearing story, realistic illustrations, and enlightening videos will help children — not to mention their parents, grandparents, and caretakers — learn about where their favorite dairy products begin: on clean, well-cared for, family-run dairy farms. Going to Papa and Nana's Farm would make a great addition to any home, school, or community library to open up a new perspective on agriculture for young readers. You can learn more and order your copy here.

---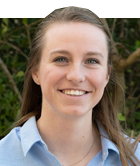 Katelyn Allen joined the Hoard's Dairyman team as the Publications Editor in August 2019 and is now an associate editor. Katelyn is a 2019 graduate of Virginia Tech, where she majored in dairy science and minored in communication. Katelyn grew up on her family's registered Holstein dairy, Glen-Toctin Farm, in Jefferson, Md.