I have had the unique privilege of being able to raise and show both beef and dairy cattle. Over the years, I have noticed many differences in how each industry prepares and exhibits their animals at a show. These differences make each industry special but that does not mean they haven't caused many debates as to which one is better among my family.
Leading up to show day, there is hair care that takes place at home. While both beef and dairy cattle tend to be washed frequently, it is for contrasting reasons. A beef animal is washed to promote hair growth, while washing a dairy animal is meant to create a silkier hide and softer, less brittle hair that can be blown up into a topline more easily. Additionally, most dairy calves are left to dry on their own, but a beef animal is blow dried thoroughly to make sure all hair is in a forward direction.
When show day arrives, both dairy and beef cattle need to be fit using adhesives. Adhesives are mostly only used in the topline of a dairy heifer with the goal of making the calf look straighter over the top and more angular. Adhesives are used in almost all parts of the beef calf, including the top, legs, belly, and tail. The use of glue in the hair is meant to make the animal appear wider, stouter, and more muscular.
Once the animal enters the showring, the dairy calves continually walk in a slow circle until the judge signals to them for their first line up. In a beef cattle show, the walking is at a much faster pace, with a more in-depth pattern. The cattle do a half circle, followed by a side-by-side lineup, and then a full circle ending in a head to tail lineup all before the judge makes any pulls. Let's not forget that beef showman can use a show stick to move the animals' feet. Also, a beef show can consist of heifers, bulls, steers, and cow-calf pairs; in a dairy show, only heifers and lactating cows are shown.
I tend to prefer preparing and showing dairy cattle, but which breed is better will forever be a fun debate in my family. What really matters is that the exhibitors are doing what they enjoy and are showing their cattle to the best of their ability.

---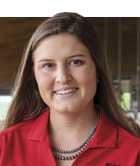 Madison Sifford
Madison Sifford is the 2023 Hoard's Dairyman Editorial Intern. She is a student at Virginia Tech majoring in dairy science and communications. Madison grew up in North Carolina before moving with her parents and sisters to Goldvein, Va. Her family raises Holsteins on their Plessed-Rose Dairy, and they also have a small Hereford cow-calf operation.